Image Copyright - Dave Furlani ©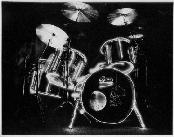 Oh $@%#&! Something Broke.
Quickly! Into the Drum fix-it kit!
I decided to put together a list of things that the average working drummer, or just the drummer at home, would benefit greatly by having in a box, somewhere near the much loved drums, or in the car. I have mainly addressed kit players, though there is an Electronic section, and I'll add in time, an african section. Mail me any african fix-it items, or other good suggestions you have, and why you think I should add it. My E-mail.
These are slightly prioritised, though the most important item will always be the one you don't have on hand when something breaks. These items cover about 98% of possible breakages that could happen on the road, or at a gig, or just when your local music shop has closed. If you had each of these items in stock, you would (almost) never get caught out, no matter what went wrong.
---
Keep spares of...
These items either wear through extended use, and are always needed (so stock batter heads before resonant heads), or are the sort of item you lose in transit, behind stages, or at practice. Insurance is to cover theft. Don't ever go on tour without insuring your gear, even if it's expensive.

---
Items for a tool kit:
These items would be good to have in a little box, or in your snare case, or in your cymbal bag side pocket, etc.

---
Other items that come in useful:
---
Electronic kits
---
Wierd things wierd people suggested:
MOSE - Rubber knife - throw at roadies to freak them out, and lighten things up.
MUFF (Steve Mills) - A big purple crayon from kindergarten. I have NO idea why that's in there, or even why I still have it after 27 years or so.
Joe Santoro - Guitar picks. I can't tell you the amount of times that a guitarist would forget their picks and to have to borrow one from the drummer! From that point on, I would throw in a few extra fills for my troubles.
Gary Gore - The big band-aids (inch or more wide) can be used for light muffling. A pack of multiple sizes allows you to chose the level of muffling. 'I wonder if that's why they're called Band-aids?'. STIK - I have a Purple snare case with my kids artwork on the top, suiloetted by a big peace sign. Gets some looks - road cases are meant to be black and tough loking. Inside is a secret compartment with all my tools and bits and a minauture yellow tonka dump truck.




Back to Dave's rather strange little page.
Comments? Wierd or useful item to add? E-mail me.