Image Copyright - Dave Furlani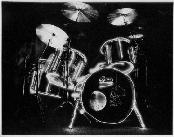 Dave 'Stik' Furlani
For people who want to tour the world drumming
---
---
The band I'm in will be recording a CD this year, and touring overseas in the next 12 months. So I decided to get myself prepared, and to draw on the experiences of drummers who have toured extensively. I have asked them about what they need before they tour, what they do to prepare, mentally, physically, financially, and equipment wise.
I'll start by shooting myself in the bum here. I have been playing for about 6 years, but have not yet toured outside of my own state. I am touring next year. This is the information I have gathered from professionals, such as Peter Erskine, about preparing tour.
This is more of an information resource for people who want to tour the world drumming.
---
TOURING


Being prepared for touring can be very difficult. Knowing where to start, and what to look out for is half the battle. Check out this Tour preparation ckeck list for lots of good things to do before and during a tour.

When you're touring, on the road, at a gig, or just practicing, you will need to have one of these handy for when something breaks at the wrong moment. The ultimate self fix-it kit for drummers!

Live or in the studio, your drums need to be tuned well to sound their best. Some of the simplest methods to get a good sound are explained in Kick drum tuning by Stik (Excert from Drum Tuning By Muff + Stik)

It's best to tour with a promotion in mind - your latest recording(s) are the best idea. This will give you a personal reason to work harder. Also, it's a good way to stay financial during your time on the road. Many a band has started out selling tapes and CD's from the boot of their car. A good DIY (Do It Yourself) manual for this situation is IndieCentre - an independent label information site (ie do as much of it yourself as you want.), especially their page to references on Booking a tour. Bands like Primus are selling more record label albums (big labels have better promo techniques and funding), but make more money from the album(s?) they cut themselves as an indie band.
---
READ, LISTEN, LEARN


Learn more about the different drums in the world. Jeff's Encyclopedia of Percussion

Learn by listening. Listen to the worlds greatest drummers. Here's where to find the greatest, and their recordings. Drummer discography

And on that theme... The legendary Buddy Rich. Listen and ask "How the hell did he do THAT?"... a lot! This is the man that in a drum battle with Animal on the Muppet Show, made Animal explode trying to keep up.

So you can't drum yet? Never have drummed ever? Just kept reading down to here because you're so enthusiastic and wanted to learn by osmosis? Well... you start at Whoa. ok. Bill Powelson's Drum lessons teach you the basics of drumming while you sit at your keyboard. Go from barely walking in time to knowing the basic beats to about 50% of popular music in a couple of easy to read lessons. There are also some great lessons for intermediate players in here. Drum music notation explained also.
---
WEB HANGOUTS


Feel serious about it yet? Want to hang with other drummers. Join the club. Percussive Arts Society

Into Marching lines and Drum Corps? Marching Drumline Forum

Be very welcome to the Drummer's Web

Flashy HTML items at the Silicon Drummers Hangout. I think with an interactive drumkit.

The Drums and Percussion newsgroup is also a good source of information, and ideas swapping.
---
A Women only page... Reverse Sexism? Well, women are good drummers too. Drummer Girl.

---
THE GURU'S ON THE NET


Two absolute Guru's, with more knowledge than I can point a wood tipped 5b at, are:

Muffinhead at Armpit Studios.




Jeff, who runs the Drums and Percussion mail list.



---
MUSIC SHOPS with MAIL ORDER


Music shops that sell over the internet. 2nd hand and new. Have your new drums posted to your door.
Another use for these places is to have the gear you want mailed to you, even if you're in a small town that can't support a drum shop. These places can often arrange some sort of over-night or express mailout if you're in a tight squeeze and are desperate for the gear, though it will cost extra.
---
DRUM MAGAZINES


Drum Magazines online. valuable reading, some lessons, reviews, etc.

---
OTHER DRUM STUFF...


Great cymbals. I actually use Paiste, but I love the sound of these - Zildjian Cymbals. Go here and find out which drummers are getting which sounds from which cymbals, and on which albums.
Orchestral percussion at Marc Zoutendijk Classical Percussion Home Page
Collectors of vintage drums at Vintage Drum Page


Links to other drum sites


The Drum Arena Page of Drums!
The Dream Drummer Studio
The Drums Professional (MIDI sequencer)
Welcome to DRUMS INTENSIVE
Interactive drum kit I think this is actually defunct, but an interesting concept.
DrumNet The ON-LINE Drum Studio



Links to links


Drummer's Web Links
Percussion + Drums - list of links

---
RELATED TO TOURING


Find nice places you want to tour to in the Backpackers travel bible (Lonely Planet). Look here before travelling.
The best Radio station to have your band played on in Australia is JJJ radio (A good reason to visit Australia too!)

---

If you want to know more about anything here, (as nerdy as it is) send E-mail to me

Back to Dave's rather Wierd page.
---
Hopefully there's now
more touring drummers out there.


Stik's Phone
0417 534 325
Australia